Welcome! Members of the Oberlin classes of 1967, 1968, and 1969 are reconnecting on this website in anticipation of our Cluster Reunion which will take place on campus during Homecoming weekend:
Friday, September 29, through Sunday, October 1, 2023.




Whether or not you will be able to join us on campus, we're excited for you to join us on this website. Greet one another, fill in your personal details, share recent and not-so-recent life adventures, add stories and photographs, and encourage fellow classmates to join!
For helpful hints on how to navigate this site, see the First Time Visitors section.
ANNOUNCEMENTS
Do you need to Sign In? Look for a rectangular blue button on the upper right. (If you're using a smartphone with a small screen, the button may be farther down this page

).
Shuttle & Parking Updates

If you're staying at a hotel near the airport, a new schedule has been posted for the complimentary shuttles. On Friday and Saturday nights there are now five additional post-8:00 departures from the campus, and there are also revisions for Sunday morning. Click the squirrel and acorn for all the times.

If you're driving to campus, street parking is available throughout Oberlin, although the spaces in front of businesses on College Street and Main Street are reserved for their customers.

All Oberlin College lots will have parking available during the weekend. Please observe all posted signs; enforcement will be limited only to restrictions for fire lanes and accessible spaces. The official map is here.

The largest and most central lots, shown in gold below, are located behind Mudd and across from Dascomb in the Grey Gables lot. Other lots close to various reunion activities include the Conservatory and Stevenson lots, shown in blue. There are spaces near Rice Hall and Philips Gym, shown in green, but the Woodland lot across from Barrows is shown in red because of new dorm construction.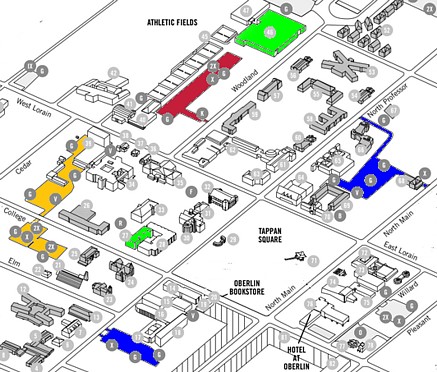 See the Schedule of Events . We can check in as early as 10:00 Friday morning, September 29, at the Big Top Tent in Wilder Bowl. There we can pick up goodies like a printed schedule and name tag.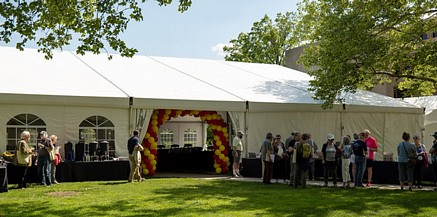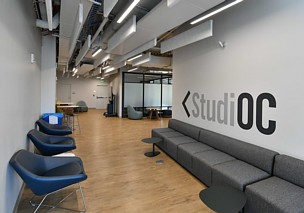 Then, starting at 3:00 Friday afternoon, our Cluster Reunion Headquarters will be open for casual gatherings, refreshments, or simply to take a break. The location is StudiOC, on the second floor connected to The Hotel at Oberlin and accessed near the front desk.

Planning Committee's Letter
In case you missed it, Lee Drickamer sent this email at the beginning of July 2023.
Dear Classmates of 1967, 1968, and 1969:
Please plan to join us in Oberlin for our 55th Cluster Reunion, Friday, September 29 - Sunday, October 1!
Together with the College, we have generated an exciting itinerary that includes discussions on topics including aging and caregiving, activism, sustainability, and an update on the state of the College. We will also be offering a Memoir and Reflections workshop.
Other programming specific to our cluster includes the traditional Men's and Women's Breakfasts, a Memorial Service, and a special evening Music Fest. There are meals scheduled in various venues to meet and chat with classmates. We will have a designated gathering space for our three classes where you can sit, relax, and engage with friends from our college days.
If you would like to assist in the planning of any of our cluster-specific events, please reach out to me via email at lee.drickamer@nau.edu.
Oberlin will also be providing programming for all alumni who plan to return over Homecoming Weekend. We can enjoy tours of the campus, the Allen Memorial Art Museum, and the Frank Lloyd Wright House, as well as attend a college class, a Conservatory orchestra concert, and athletic programming throughout the weekend.
Reunion registration will open on July 26. More information will be provided by email later in July. If you have questions, please contact the Office of Alumni Engagement at alumni@oberlin.edu.
Thank you, and do plan to join us.
On behalf of the 55th Cluster Reunion Planning Committee,
Lee Drickamer '67
Class Presidents' Letter
In case you missed it, our class officers sent this earlier email at the end of February 2023.
Dear Classmates from 1967, 1968, 1969:
We hope all of you are enjoying a good start to the new year. This letter is to provide you with some current details concerning our upcoming Cluster Reunion and to ask for your advice and assistance.
We have been meeting with each other and, recently, with Jill Robinson, our very helpful contact through the Alumni Office. She will be assisting with all aspects of our planning as we put things together for the big gathering. The website created for our three classes combined, https://www.obie676869.com/, will provide basic information about the reunion and new information will be added on a regular basis as we fill in our plans. If you have not already done so, please do register and join this website for the opportunity to connect with classmates prior to the fall reunion and to watch for updates on the schedule.
Our reunion, as you may already know, will be from Friday, September 29, through Sunday, October 1.
The three-day gathering will commence as people arrive on Friday. Campus events will be in full swing during the day with chances to attend classes, take tours of the Allen Art Museum, the campus, and likely other locations as well, and to view displays at the Terrell Library. A "Welcome Back" dinner gathering for all of the cluster reunion groups, with comments from President Ambar, will take place that evening and be followed by our own gatherings. Our group will have a designated "Home Room," most likely in Wilder Hall. This facility will be available to us throughout the weekend.
Saturday will provide opportunities to have our own agenda with talks and panel and group discussions, followed by get-togethers staged around the Homecoming events. Here we also request your advice. For those who are inclined, there will be a tailgate lunch followed by a football game. There will be student activities and performances and, as with Friday night, we can use our designated base location for events like singing, dancing, and good old-fashioned conversations. A piano will be provided to enliven these activities.
Sunday morning will start with our traditional women's and men's breakfasts, with real food, not just coffee and doughnuts. We'll continue with our cluster specific events, including presentations, a session to remember all of our classmates we have lost, and possible campus tours, among other events. The day will conclude with a farewell reception.
As you will note in the information accessed through our website, classes will be in session and thus, our accommodations will be off campus at several designated hotels. For your convenience, the hotels will have blocks of rooms and will provide the special rate for four nights from Thursday, September 28, through Sunday, October 1. Shuttle services will be provided on a regular basis to and from the college and at a number of stops on campus. Details on these arrangements will be provided during this spring and summer. Registration will open on about August 1.
We have built a reunion committee and they will be holding some Zoom meetings this spring to set up our formal sequence of events. We also plan to follow up on a wonderful series of open sessions that was staged by the classes of 1970, 1971, and 1972, prior to their gathering last year. See this website for some recap information on the list of topics and other aspects of that reunion: https://www.oberlin72reunion.com/class_index.cfm.
To launch our sequence, of perhaps three Zoom panels and discussions, we need your input. What topics would you like us to consider as part of the program? Please provide the names of individuals from our classes who would be good speakers to make short presentations at these Zoom sessions. Please email one or all of us with your ideas in the near future.
We are also hoping to have some of our classmates volunteer to provide assistance with arrangements for, and staging of, events during the three-day weekend. Please considerer putting your name in for these efforts and indicate what event(s) where you might like to help.
We are very much looking forward to hearing from you, having you join us for the Zoom talks, and then seeing many of you here in the fall. Thank You for making plans to participate in the fun and to give everyone the opportunity to converse and reminisce in person.
Best Wishes,
Lee C. Drickamer, Class of 1967 (Lee.Drickamer@nau.edu)
Paul Safyan, Class of 1968 (Paul.Safyan@outlook.com)
Gael Treesiwin, Class of 1969 (treesiwin@aol.com)
Matthew Rinaldi, Class of 1969 (rinaldi2@earthlink.net)