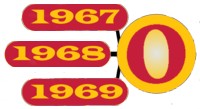 Welcome! Members of the Oberlin classes of 1967, 1968, and 1969 are reconnecting on this website in anticipation of our Cluster Reunion which will take place on campus in 2023. Details should be announced soon.
Our class presidents have written messages similar to the following:
Over the past several years, the good people in the Alumni Office have been dealing with shifting reunion scheduling due to issues like dormitory renovations and the Covid pandemic. As soon as we have firm dates for our gathering, we will send the word to everyone, and more detailed planning will follow immediately. Whether or not you're going to be able be there with us in 2023, we're excited for you to join us now on this new website. Greet one another, fill in your personal details, share recent and not-so-recent life adventures, add stories and photographs, and encourage fellow classmates to join!
For helpful hints on how to navigate this site, see the First Time Visitors section.
ANNOUNCEMENTS
Do you need to Sign In? Look for a rectangular blue button on the upper right. (If you're using a smartphone with a small screen, the button may be farther down this page

).
ExCo Donations
Liz Ryan Cole '68 suggests that "if you are not giving money to Oberlin (perhaps due to the trustees destroying the Finney Compact) but still love the place and the students, you might like to donate to ExCo."
The Oberlin Experimental College was founded in 1968 and is the largest student-run academic department in the nation. Here's their donation link. Other contact addresses include Wilder Box 13, 135 West Lorain St., Oberlin, Ohio 44074. Also, email via exco@oberlin.edu ... and socials via @oberlinexco ... and Policy Documents and Syllabus, Fall 2023, Office: Wilder 302.
Edward McKelvey '68 adds, "Another option is to designate your gift for a department of the college if you want to support them as opposed to the college as a whole, and you can give it in someone's honor. In my case, anything I choose to give will be donated to the department of economics."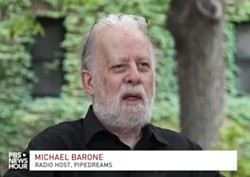 WOBC Alumnus
Still doing Pipedreams on the radio, former WOBC classical music director Mike Barone '68 recently appeared briefly on television. That's according to John Rathbun '68, who posts "Keep up the good work." Michael can be seen at 2:47 of the clip at this link, a PBS NewsHour report on a monastery's pipe organ.
From Other Sites
Bob Baker has recently posted on the Class of 1968 50th reunion website:

We are becoming a laughingstock, left behind as a quality liberal arts institution.


Oberlin has three major black eyes going on right now, in the view of many alumni:


The failure to deal with the Gibson's case properly;


The contracting out of health services to a private entity that does not provide full services to women; and,


The failure to divest from fossil fuels and refusal to meet with the group that has been raising this issue.
On that '68 website, as well as the one for the Class of 1969, there's been much discussion (especially in early September) about these issues. We've put a few excerpts into the Discussion Forums section of this Cluster website which you're now visiting. For shortcuts, just click the blue number buttons above.