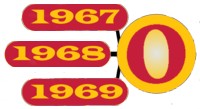 Welcome! Oberlin graduates from 1967, 1968, and 1969 are reconnecting on this website in anticipation of our Cluster Reunion, which hopefully will take place on campus in May 2023. Details should be announced in the fall of 2022.
Our class presidents have written messages similar to the following:
Who would have thought 50+ years ago that we would have this electronic means of getting together? But there's no substitute for meeting in person, and that's what we are gearing up to do! In 2023, we are back to accompanying our classmates to campus. We relish the conversations at a deep level that we can so easily settle into despite many years of being apart.
So when exactly will we return to campus? We're still awaiting word. Over the past several years, the good people in the Alumni Office have been dealing with shifting reunion scheduling due to issues like dormitory renovations and the Covid pandemic. They're in a holding pattern about our reunion dates and ask for your patience and understanding. As soon as we have firm dates for our gathering, we will send the word to everyone, and more detailed planning will follow immediately.
Whether or not you're going to be able to join us at Oberlin in 2023, we're excited for you to join us on this new website to meet and greet one another and to share recent and not so recent memories and experiences. Fill in your personal details, add stories and photographs, and encourage fellow classmates to join so we can all hear about the varied life adventures we have experienced.
For helpful hints on how to navigate this site, see the First Time Visitors section.
ANNOUNCEMENTS
Do you need to Sign In? Look for a rectangular blue button on the upper right. (If you're using a smartphone with a small screen, the button may be farther down this page

).